Fishing in the Breede Valley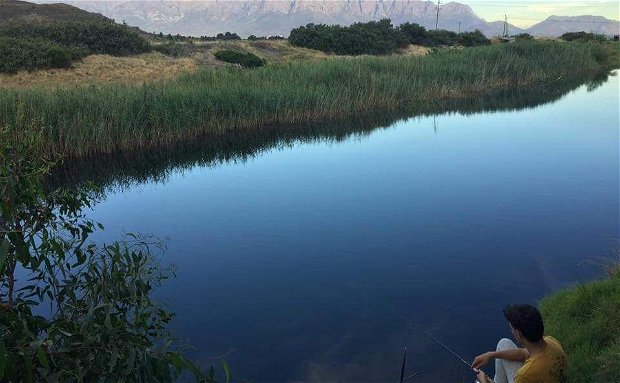 The Breede River starts high in the Waaihoek Mountains and ends at Witsand. In winter it transforms into a swirling mass of water from the rain-fed streams and melting snow. River Edge Accommodation is like the name indicates on the edge of the Upper Breede River. This River is great for fishing and is home to 10 fish species, of which the indigenous White Fish is under threat by invading fish species.
Many returning fishermen mentioned that we are "The best Bass fishing spot ever". Bring your rod, tackle and bait. Please note that we operate on a "catch & release" system. Our perennial mountain streams are home to threatened fish species, mostly small fish species such as redfin minnows Pseudobarbus, Cape Galaxias Galaxias zebratus and Cape kurper Sandelia capensis.
Carp tip: Often used as bait is whole kernel corn (heelpit mielies) dipped in a flavourant eg Rose, Caramel etc. and also load a good sized ground-bait.
Bass tip: Drop your lure in a floating stream and wait for the action…
Barbel: Eats everything … you can offer it to the locals and you do not have to throw them back into the River.

General safety:
Always use an adequate breaking strain when using heavy weights.
Maintain a safe distance from other anglers when casting.
Be aware of the dangers of wading, especially in fast flowing rivers and in deep rivers. Use a wading staff to judge the depth.
Always wear a life jacket when fishing from a boat.
Be aware of the dangers posed by dangerous snakes such as cobras and puffaders.
Minimise the time a fish is out of the water.
Only handle fish with wet hands.
When photographing fishes, have the camera ready for use, keep the fish as close to the ground as possible, either over the water or unhooking mat and minimise the time taken to photograph it.
Deep-hooked fish should survive if the hook cannot be removed. Here cut the line as close to the hook as possible.
When releasing fishes, support them in open water until they are ready to swim off.
Respect your catch - never drop or throw fish back into the water.